2022 The Vineyard Conference
Our National Gathering for Vineyard family and friends.
LOVE be Multiplied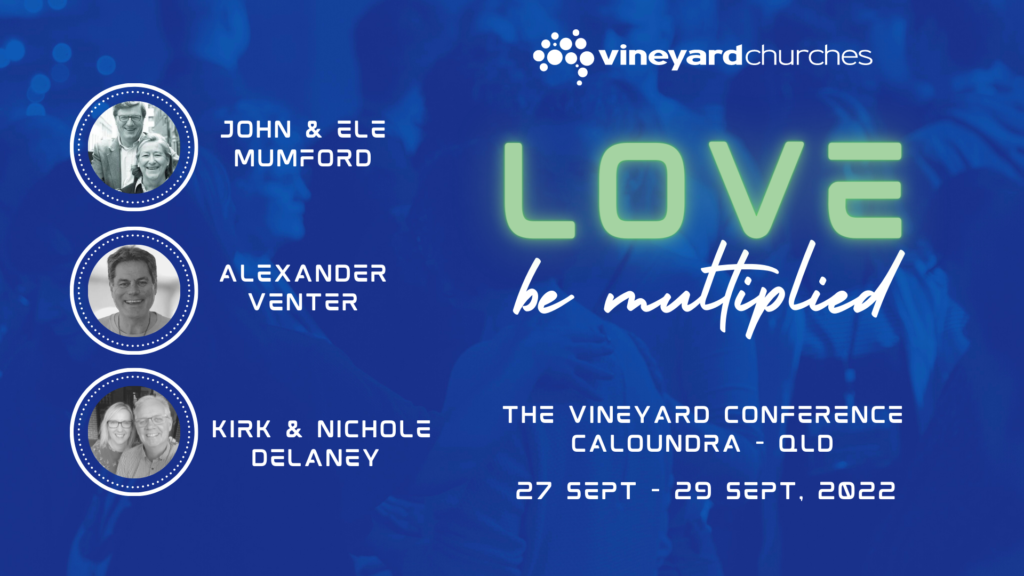 Our hearts have been filled with a Holy Spirit fuelled vision to see God's love be multiplied across our nation and into the world.
YES!! Our Guest speakers will be here IN PERSON :
Alexander Venter (Vineyard South Africa)
John & Ele Mumford (Vineyard Global Co-ordinators UK)
Kirk & Nichole Delaney (Vineyard Churches Australia)
Creche, Children and Youth Programmes are happening too.
Venue:
Caloundra CityLife Baptist Church, 7 Gregson Place, Caloundra.
Timetable:
Conference begins Tuesday evening at 7:30pm and finishes Thursday evening at 10:00pm.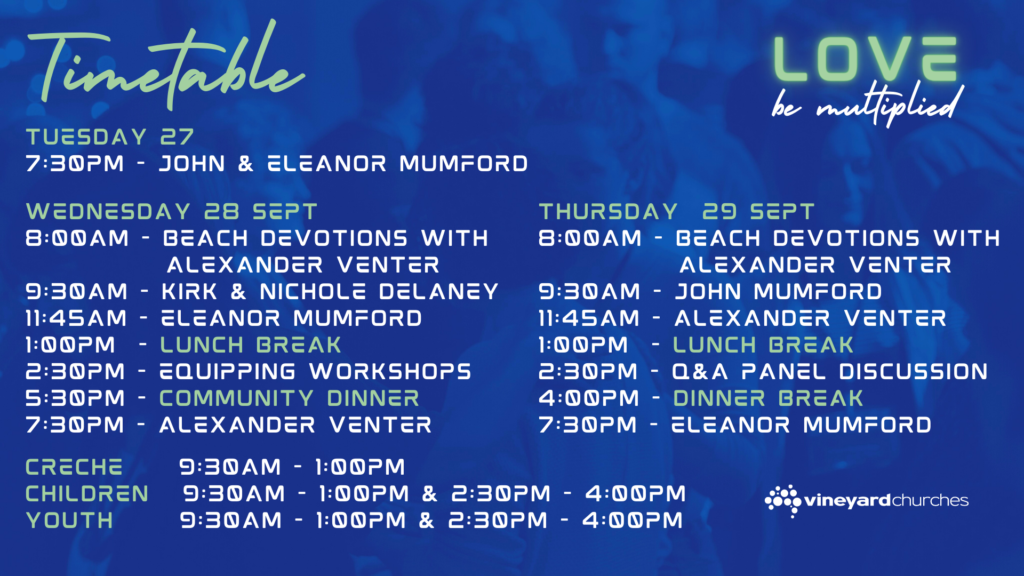 Book your accommodation NOW at Caloundra, Sunshine Coast, Queensland.
Suggested options:
BIG 4 Caloundra
Oaks Oasis Golden Beach
Windward Passage
Grand Pacific Breakfree Resort
Pumicestone Blue
Watermark Resort
Monaco Resort
Waterview Apartments
OVR
Centrepoint Apartments
La Promenade
Rumba Resort
Airbnb – Golden Beach, Bulcock Beach, Kings Beach
Not from Brisbane?
Closest airports to the venue are Maroochydore and Brisbane.
Suggested Transport options from Airports:
Early Bird ticket sales EXTENDED till midnight 14th August 2022.
Regular ADULT price ticket will be $225 from 15th August 2022.
Refund Policy:
Refunds due to Covid illness up until Monday 26th September 2022.
Refunds for other circumstances, up until Friday 23rd September 2022.
Email [email protected]